I have recently taken advantage of the fact that some wonderful human being decided to put all 7 seasons of Gilmore Girls on Netflix, while also adding a more recent follow-up series Gilmore Girls: A Year In The Life. I always loved the simplistic beauty of life in Stars Hollow, but had forgotten just how much this show had captured my heart. And not just Gilmore Girls, but all of the other turn-of-the-century shows that I grew up watching. Boy Meets World, Full House, Dawson's Creek, Charmed, Fresh Prince, Saved by the Bell, Friends, Sabrina, That 70's Show…
Be still my heart.
While laid back watching the start of Season 2, snuggled up in my robe, wearing fluffy socks & sipping hot coffee, I found myself daydreaming. Daydreaming of what it would be like to find myself at an unclothed table, ordering coffee at Luke's, while admiring the newly painted walls and the morning hustle of the neighbors and Taylor's continued need to fuss about how he felt things must to go his way.

When I watch a show or movie, or read a book, I envelope myself within the story; the characters. I find myself crying, laughing, being angry, admiring. They become like friends, family. I get lost in a world outside of my own. These are more than forms of entertainment, it's a form of stress-relief. A way for me to bury the troubles of the day and savor a story, a reality, outside of my own.
Stepping back into a life in Stars Hollow has  been especially lovely. It is like bumbling into an alternate realm that feels oddly familiar. While there are many aspects of the story that I cannot personally relate to, there are even more that seem unnaturally close-to-home. Watching this show from my childhood has brought back such lovely memories.
"Oh, I can't stop drinking the coffee… I stop drinking the coffee, I stop doing the standing and walking, & the words-putting-into-sentence doing." -Lorelai Gilmore
There is something significantly special about these shows. The ones that I spent so much time watching as a kid. Not only were they some of the best shows ever made 😉, but they take me back to a time where things were simple, less chaotic, less stressful. Not necessarily only in my personal life, but in the world in general. In even the mere 27 years that I have been alive, the world has changed so dramatically. Some for the better. Others for worse.
The world surrounding me today is not a place I could have imagined. It is different in so many ways. We move faster, think faster, sleep less, stress more, work differently, want all things tailored specifically for us, expect a life where all is at our fingertips with little effort. It isn't necessarily a story line I saw plotted for myself, let alone my family, my children. But, change is inevitable I guess; as is the ebb and flow of the tides. All I can do is hoist up my sail and try to set forth on my path.
But, when the outside world seems too much, when the day is a little tough, when the everyday stresses keep building up – I will find myself back at Luke's. Sleepily awaiting my breakfast, waiting for snow, dreaming of yellow daisies, and admiring the (s)ass of the man behind the counter.
And for those of you who have never heard of, or watched, Gilmore Girls (or any of the previously listed shows for that matter), I suggest you do so. They won't disappoint and you will thank yourself for giving it a try. And for those of you who had forgotten how amazing it was and needed a reminder….. 😉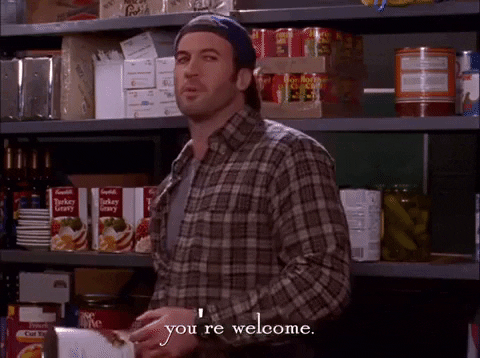 -Shawna
Are there any turn-of-the-century shows that you loved?
---