This week, I tried something a little new. I had seen orzo when it was cooked and had found many recipes upon scouring the depths of pinterest. I figured, heck, why not?! The problem was, I couldn't find any orzo at our local store. After multiple failed attempts at finding it, I started doing a little more research and figured out the problem. I spent all of my time hunting orzo around the rice or ethnic foods, and didn't even realize it was a pasta. Y'all have no clue how ridiculous I felt! Haha!
So, finally we united! I decided to try something simple for my first attempt at adding orzo to a meal. I figured that I would get a little more intricate later on. Not only that, but I cooked it on a weeknight. If you don't already know, I work full time and have a family. Quick dinners on weeknights are basically a necessity!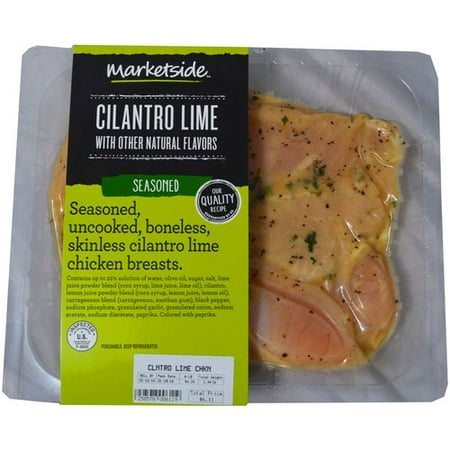 I decided to make a lemon orzo with chicken and broccoli. It was quick, easy, and packed with flavor. On my last Wal-Mart trip, I picked up some Marketside Cilantro & Lime chicken breasts. Now, I'm not saying that pre-marinated meats are my favorite, but it works great when needing to have a meal in a jiffy! I also keep microwavable Steamers Broccoli on hand for those quick meals too. Toss in a couple extra ingredients and it was perfect. I love the zesty bite from lemon and lime & it hit home with me!
Lemon Orzo with Chicken & Broccoli
Servings: 4-6
Difficulty: easy
A perfect quick & healthy meal for those busy weeknights!

The recipe here calls for several packaged ingredients. If you do not have these at home, you may easily substitute for plain, or marinated, chicken breasts and fresh broccoli. This was based on my quick fix dinner.

Ingredients
1 1/2 cup orzo
1 package Steamers Plain Broccoli
1 package Cilantro Lime Chicken
1/4 cup green onions
1/2 cup chicken broth
1 Tbsp olive oil
2 cloves garlic, minced
1 lemon sliced
salt and pepper to taste if needed
Directions
In a pot, begin process of cooking orzo per the instructions.
While orzo is cooking, in a pan, add the olive oil and cook the thin sliced chicken breasts until done. Add in sliced lemon after flipping the chicken for the first time.
Toss the broccoli in to steam while you have the other items cooking.
Pull up the chicken and cut into pieces, if needed. Can also be served on top of rice instead.
In the pan that the chicken cooked in, pour the chicken broth in, add the cooked orzo, green onions, garlic, chopped chicken, and salt & pepper if needed.
Serve & enjoy!